With the start of the 2016-2017 school year, Walt Disney students will have a new principal.
The Dolphins' previous principal of four years, Mr. Randy Williams, has been named Associate Principal at Penn High School and Mrs. Lavon Dean-Null will become Walt Disney's new principal. Both positions are effective immediately.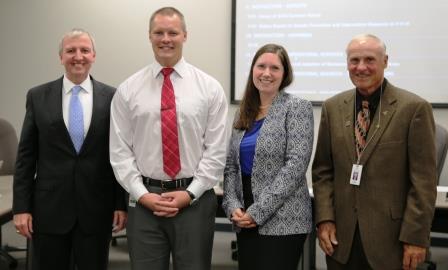 Mrs. Dean-Null's appointment as elementary principal and former principal Randy Williams' appointment as the Associate Principal of Penn High School were approved at the August 8, 2016 meeting of the Board of School Trustees. Superintendent Dr. Jerry Thacker recommended both to the Board, citing their commitment to student learning and their success in various roles serving the District in recent years.
While investing himself in the school climate and student learning, Mr. Williams developed strong connections with the Disney family. He expressed to the Board his gratitude for the many good things he has experienced while at P-H-M—including his time at Walt Disney, and especially the support that community showed him during several months of illness and recovery. He can look forward to seeing former Walt Disney students as they reach high school. Williams worked at Penn prior to the principalship at Walt Disney, so is experienced in secondary education as well. 
Since 2013 Mrs. Dean-Null has served as the Assistant Principal at Grissom Middle School. As a teacher and literacy leader at Discovery Middle School (2009-2013), Dean-Null provided professional development and curriculum strategies that contributed to Discovery being named a National Blue Ribbon School in 2013. In addition, she has been very active with P-H-M's international learning opportunities, co-leading trips throughout Europe and China for P-H-M middle school students.
Mrs. Dean-Null was named Penn-Harris-Madison's Teacher of the Year in 2012, and went on to become a Top Three finalist for the Indiana State Teacher of the Year. Other honors include membership in Michiana's Forty Under 40, Class of 2013. 
She says, "It is with great excitement that I join the Walt Disney team!" and adds, "Walt Disney is an outstanding school and I am eager to continue the great work that has been done there. By setting high expectations, we will continue to foster a culture where all students and staff strive for excellence. We will continue to build an environment where student achievement and diversity will be celebrated."