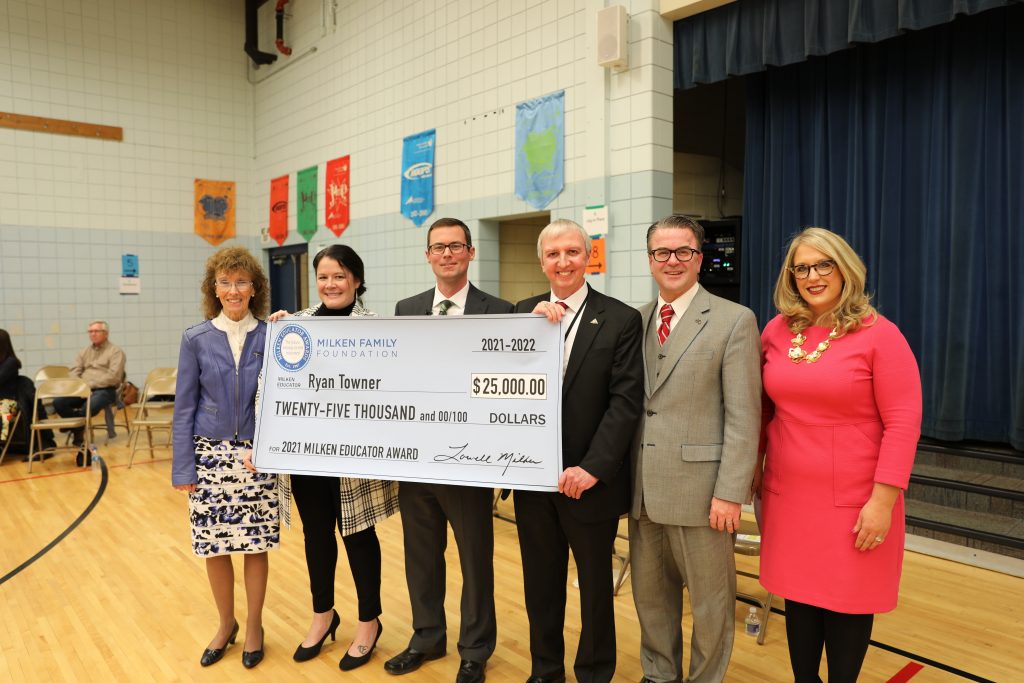 Principal Towner Surprised with $25,000 Milken Educator Award
Posted on March 16, 2022



Walt Disney Elementary School Principal Ryan Towner experienced the "Luck of the Irish" a day early! In a surprise assembly today, Wednesday, March 16, was named a Milken Educator Award for his excellence and innovation in education AND received a $25,000 check! Click here to see the photo gallery below.

Filling the auditorium were members of the local media, cheering students, teachers and colleagues, P-H-M Board Members and Administrators, representatives of Milken, members of the National Institute for Excellence in Teaching (NIET), and local and state officials. Notables on hand to help surprise Principal Towner were:
Milken Educator Awards Senior Vice President Dr. Jane Foley
Indiana Secretary of Education Dr. Katie Jenner
Director of Leadership & Innovation, IDOE, Ms. Rebecca Estes
P-H-M Superintendent Dr. Jerry Thacker
P-H-M Board of School Trustees President Mr. Chris Riley
P-H-M Board of School Secretary Mrs. Clare Roach
Indiana State Representative Dale DeVon
Representing U.S. Senator Mike Braun's Office Mary Martin
Towner is one of the few principal recipients of the Award for the 2021-22 school year chosen from among Indiana's 80,000 plus incredible educators. He's also among more than 60 educators nationwide to be named a Milken Educator this season.
Towner and Walt Disney teachers educate the school's diverse students with differentiated instruction. He leads by providing unique professional development methods and gets students excited about school through unique engagements like playing the ukulele and piano for students at arrival and dismissal.
Hailed as the "Oscars of Teaching," the Milken Educator Awards celebrate, elevate and activate the American teaching profession and inspire young, capable people to join it. The Milken Educator Award is not a lifetime achievement honor. Recipients are heralded while early to mid-career for what they have achieved — and for the promise of what they will accomplish given the resources and opportunities inherent in the Award.
"Educators are an invaluable resource, and the Milken Family Foundation seeks to emphasize that this work does not go unnoticed," said Dr. Foley, who is herself a 1994 Indiana Milken Educator. "Ryan Towner fully embodies the qualities of an effective leader: innovation, enthusiasm and the ability to inspire those same merits in his colleagues."
"Mr. Ryan Towner represents the best of Indiana's educators, as he engages with students daily in unique ways to get them excited about learning," said Dr. Jenner. "Leveraging his passion and his creative side, he leads by bringing his fellow educators, families and community members together to help students learn and grow. We're thankful to have him representing Indiana and setting a great example for how we might best serve our students."
"Ryan is one of P-H-M's many excellent and dedicated educators," said Dr. Thacker. "His devotion to his students, staff, and school is limitless. We are so proud of Principal Towner and the Walt Disney community; winning Milken Educator award is an amazing opportunity for Ryan to grow professionally, but to also help Disney become an even better school."
More About Principal Towner
Innovation: Raising the bar for both student and educators' practices, Towner introduced tiered academic interventions with ongoing progress monitoring, new curriculum maps with common assessments and a renewed focus on phonics instruction for the school's younger students. He creates an environment where students and staff feel valued, motivated and appreciated and often brings lightheartedness to campus where he greets each student by name as he plays the piano or ukulele at arrival and dismissal. He created Walt Disney's annual Culture Night, which celebrates the school's linguistic and cultural diversity and is one of the best attended events in the district.
Leadership: A role model to both students and colleagues alike, Towner created a teacher leadership team that holds regular professional learning community meetings, encouraging staff to make data-informed decisions in curricular planning, differentiate instruction and collaborate across grade levels. Since taking the helm, his school has charted steady gains in student achievement and exceeded state averages with some of the strongest growth in the district. He helped create a three-week STEM camp, chaired the district's wellness committee and led its federal grant program for several years. Education runs in Towner's family—his father served as a longtime administrator for a nearby district and has strongly influenced the principal's career.
Education: Towner earned a bachelor's in education in 2010 and a master's in education administration in 2016 from Indiana University South Bend.
Career: Towner is a creative leader and has been with P-H-M since 2011 when he joined the district as a teacher with Prairie Vista. He did an administrative internship at Madison Elementary for a year and then came to Walt Disney as Assistant Principal in 2014 and became principal of Walt Disney 2017.
Click here for more details about Mr. Towner's Milken Educator Award on the Foundation's website.
More about Walt Disney Elementary School:
Walt Disney is part of the "A" rated Penn-Harris-Madison School Corporation, where excellence in education is pursued and achieved at all levels. Walt Disney is one of P-H-M's five Title I schools. Our students feel supported and encouraged to reach their full potential.
We have also earned the distinction of being among Indiana's Top 30% of Public Elementary Schools by U.S. News & World Report (data is based on the 2018-2019 and 2019-2020 school years). Click here to learn more.
Our school values and celebrates diversity. More than 40 different languages are spoken in the homes of our students. Which is why one of Disney's annual traditions that we love to celebrate is Culture Day and Cultural Night. Click to read an Edutopia article about how Walt Disney celebrates it's diversity (this article was written by Clare Roach in 2015, before she was elected to the P-H-M Board of School Trustees).
The very first Milken Educator Awards were presented by the Milken Family Foundation in 1987. The Awards provide public recognition and individual financial rewards of $25,000 to elementary and secondary school teachers, principals and specialists from around the country who are furthering excellence in education. Along with the $25,000 financial prize, recipients join the national Milken Educator Network, a group of more than 2,800 top teachers, principals and specialists. The network serves as a rich resource for fellow educators, legislators, school boards and others dedicated to excellence in education.
The honorees will also attend an all-expenses-paid Milken Educator Awards Forum, where they will network with their new colleagues as well as veteran Milken Educators and other education leaders about how to increase their impact on K-12 education. In addition, they will learn about how to become involved in the Milken Friends Forever (MFFs) mentoring program, in which freshman Milken Educators receive personalized coaching and support from a Milken Educator veteran on ways to elevate their instructional practice and take an active role in educational leadership, policy and practice.
Over the years, more than $140 million in funding, including $70 million for the individual cash awards, has been devoted to the overall Milken Awards initiative, which includes powerful professional development opportunities throughout recipients' careers.
Veteran Milken Educators frequently go on to serve in leadership roles at state, national and international levels.
"We find you. You don't find us!" Unlike most teacher recognition programs, the Milken Educator Awards initiative has no formal nomination or application process. Candidates are sourced through a confidential selection process and then reviewed by blue ribbon panels in each state. The most exceptional candidates are recommended for the award, with final selection made by the Milken Family Foundation.
Last Modified March 17, 2022