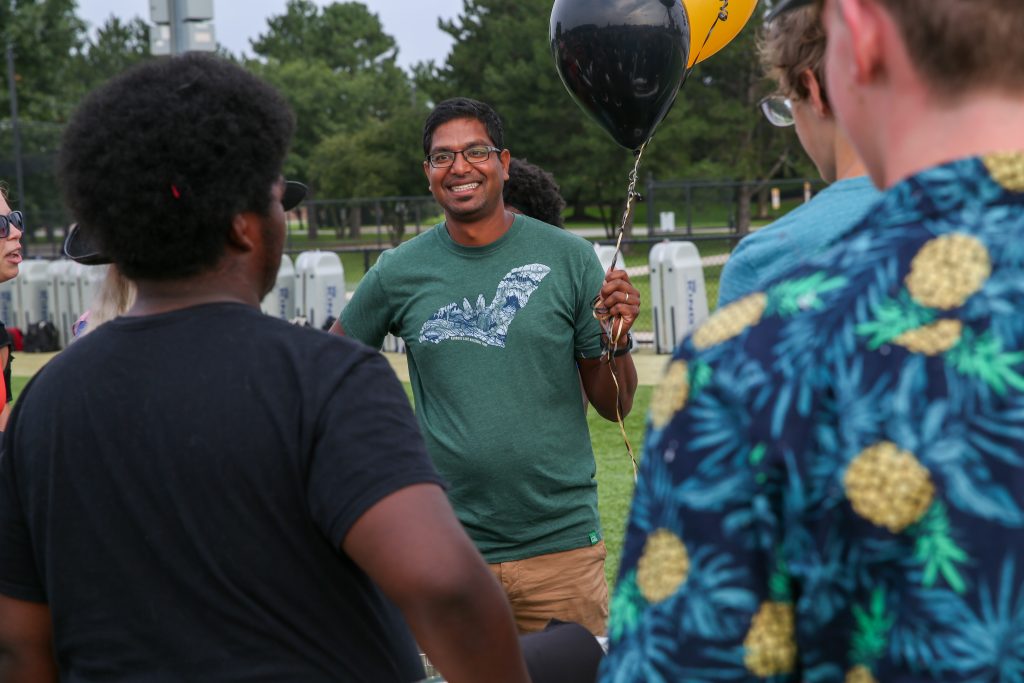 Mr. Davidson Named Among Top 25 Finalist for Indiana Teacher of the Year
Posted on August 11, 2023



The Indiana Department of Education released today (Friday, August 11, 2023) the Top 25 finalists for Indiana Teacher of the Year and Walt Disney Elementary School Music teacher Mr. Robi Davidson was among them!

Davidson was at Penn High School Marching Band practice when Superintendent Dr. Jerry Thacker, Assistant Superintendent Dr. Heather Short, former Walt Disney Principal now Literacy Director Ryan Towner, and new Disney Principal Dr. Mindy Higginson surprised him to congratulate him. In the summer, Davidson coaches the tuba section for Penn's award-winning Marching Band and works on the sound design team with the front ensemble. To celebrate Davidson's next step in the Indiana TOY process, Walt Disney Principal Dr. Higginson brought him balloons and the band played the Penn Fight Song, with the tuba section front and center! Watch the video below.

In April, Davidson was P-H-M's Elementary Teacher of the Year. Between his teaching career and his K-12 education, Davidson has spent almost his entire life at P-H-M! He attended P- Madison Elementary School, Grissom Middle School and graduated from Penn High School in 2007. He has taught music at Walt Disney Elementary for 11 of his 12 years of teaching.

Walt Disney is one of P-H-M's five Title I schools. Nearly 30 different languages spoken in the homes of Disney families. To celebrate the school's diversity, we host an annual "Culture Night" and month long of educational experiences and celebrations for both students and families alike. Along with his music teaching responsibilities, Davidson is the lead organizer along of Disney's Cultural activities.

The IDOE each year recognizes an Indiana Teacher of the Year—a educator who works to inspire, rejuvenate, and celebrate the teaching profession by recognizing outstanding teachers from across the state. The INTOY award is a lifetime role in education, which has many opportunities to celebrate teaching and uplift the teaching profession.

On August 1, P-H-M's Secondary Teacher of the Year Penn High School AP History teacher Eric Bowers was named Indiana History Teacher of the Year by the Gilder Lehrman Institute. Bowers will be among those recognized at the second annual Indiana Educational Excellence Awards Gala coming up in September.
Last Modified August 11, 2023